Jean Book Nerd Two Dark Reigns Tour Schedule
Thank you for stopping by for the blog tour!  Huge THANK YOU to Jean Book Nerd for letting me take part.
#1 New York Times bestselling author Kendare Blake returns with the highly anticipated third book in the Three Dark Crowns series!
Katharine sits on the throne, Mirabella and Arsinoe are in hiding, and an unexpected renegade is about to wage a war of her own. The crown has been won, but these queens are far from done.
Praise for TWO DARK REIGNS
"Tragic, devastating, horrifying, enthralling." ―Kirkus Reviews (starred review)
Praise for ONE DARK THRONE
★ "Blake's already pitch-dark tale shades even darker. Exquisitely restrained prose, deliberate pacing, paying off in a tumultuous climax that piles one shocking twist upon another. Achingly gorgeous and gruesomely fascinating." ―Kirkus Reviews (starred review)
"This sequel to Three Dark Crowns loses none of that book's momentum, powering toward a conclusion that leaves several doors open. With wonderfully drawn characters and a lethal, unpredictable plot, this follow-up will leave readers breathless as the queens' fates unfold." ―ALA Booklist

Praise for THREE DARK CROWNS
"New exciting heights with a driving plot. Dark indeed, and exploring themes of loyalty, this is a thrilling sequel with everything from action to romance to entice readers. A strong purchase for YA fantasy shelves." ―School Library Journal
"Three Dark Crowns is a brutal and inventive fantasy that is as addictive as it is horrifying. I can't begin to guess the fates of these three remarkable sister-queens, but I'm salivating like poisoners at a feast to find out what will happen next." ―Marissa Meyer, New York Times bestselling author of the Lunar Chronicles 
"Full of mystery, intrigue, and deadly girls I wouldn't dare cross, Fennbirn is a darkly magical world I'm both drawn to and frightened by. In short, this is a book I could linger in for months, with three girls I am rooting for with all my heart." ―Megan Shepherd, New York Times bestselling author of The Cage series
★ "With exquisite world building and luminous detail, this is high fantasy at its best. The magic is fierce and the plot intensely twisted, but at this novel's dark heart beats a story about sisterhood, the unbreakable bonds of family, and ties that bind enough to kill." ―Booklist (starred review)
★ "The opener to a pitch-black epic fantasy series. Blake has constructed an insular, matriarchal society from convincing intimate details, vivid, complicated characters, [and] sumptuous, poetic prose. Gorgeous and bloody, tender and violent, precise, and passionate; above all, completely addicting. " ―Kirkus Reviews (starred review)
"I loved this book. Blake's Three Dark Crowns is hypnotic, twisting, and beautiful…as satisfying as a drop of poison in an enemy's cup." ―April Genevieve Tucholke, author of Wink, Poppy, Midnight
"Readers will be riveted by Blake's ingenious world-building, stunning developments of main and supporting characters, and spiraling tensions. Highly recommended for fans of fantasy action thrillers with strong female leads, such as Victoria Aveyard's 'Red Queen' and Sarah J. Maas's 'Throne of Glass' series." ―School Library Journal
*******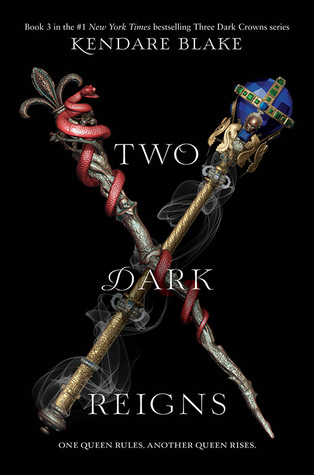 Hardcover, 464 pages
Published September 4th 2018 by HarperTeen
5/5 books
*I received an e-arc of this book from the publisher in exchange for an honest review*
*******
Two Dark Reigns is the third book in the Tree Dark Crown series. The "last remaining" queen has claimed her throne, with some trepidation as to how she was placed there. Katherine has had some "help" on her quest for the throne, and no one really seems to understand how she has become stronger despite her weakness to her poison training.
The incident with Katherine building up to this point I found interesting and by the end of the book you get the full understanding as to why and how she got to where she is.
Arsinoe and Mirabella are on the mainland for the first half of the book, and they both seem miserable but grateful that they are off the island. Then the visions and dreams start for Arsinoe, she's not sure what to make of them only she knows after a short time that it's the Blue Queen reaching out to her. I found the visions interesting and how it leads up to why the Blue Queen is calling them back to the island.
Finding out about how the mist came to be and why the bodies were washing ashore was interesting and disturbing at the same time.
Jules, what can I say… she just wants to learn how to hone her War-Gift, instead she is dragged into a rebellion against the Queen. As we followed her you see her reluctance start to waiver as she comes across more people who are against the Poisoners rule, that never seems to end.
Once again Kendare leaves this book on quite the cliffhanger, and with there not even being a title to the fourth book, which I'm hoping will give a clue as to how this will end. I am eagerly sitting here waiting for any info.
*******
Kendare Blake is the author of several novels and short stories, most of which you can find information about via the links above. Her work is sort of dark, always violent, and features passages describing food from when she writes while hungry. She was born in July (for those of you doing book reports) in Seoul, South Korea, but doesn't speak a lick of Korean, as she was packed off at a very early age to her adoptive parents in the United States. That might be just an excuse, though, as she is pretty bad at learning foreign languages. She enjoys the work of Milan Kundera, Caitlin R Kiernan, Bret Easton Ellis, Richard Linklater, and the late, great Michael Jackson, I mean, come on, he gave us Thriller.
She lives and writes in Kent, Washington, with her husband, their cat son Tyrion Cattister, red Doberman dog son Obi-Dog Kenobi, rottie mix dog daughter Agent Scully, and naked sphynx cat son Armpit McGee.
WEBSITE: http://kendareblake.com/
TWITTER: @KendareBlake
GOODREADS: https://www.goodreads.com/author/show/4086715.Kendare_Blake
FACEBOOK: https://www.facebook.com/Anna-Dressed-In-Blood-247641338610092/
INSTAGRAM: https://www.instagram.com/kendareblake/
Rafflecopter:
—
Giveaway is open to International. | Must be 13+ to Enter