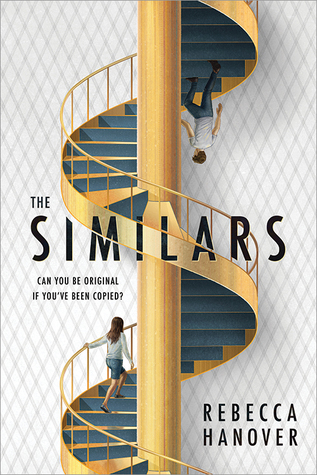 The Similars by Rebecca Hanover
Hardcover, 352 pages
Expected publication: January 1st 2019 by Sourcebooks Fire
Edition Language: English
3.5/5 books
*I received an arc from the publisher in exchange for an honest review*
*******
When six clones join Emmaline's prestigious boarding school, she must confront the heartbreak of seeing her dead best friend's face each day in class.
The Similars are all anyone can talk about at the elite Darkwood Academy. Who are these six clones? What are the odds that all of them would be Darkwood students? Who is the madman who broke the law to create them? Emma couldn't care less. Her best friend, Oliver, died over the summer and all she can think about is how to get through her junior year without him. Then she comes face-to-heartbreaking-face with Levi—Oliver's exact DNA replica and one of the Similars.
Emma wants nothing to do with the Similars, but she keeps getting pulled deeper and deeper into their clique, uncovering dark truths about the clones and her prestigious school along the way. But no one can be trusted…not even the boy she is falling for who has Oliver's face.
This is being sold as a YA Dystopian, I didn't find that much of that in here, I mean yes there are clones in the story, there are self-driving cars, and watches that have programs that you can interact with, but outside of that I didn't find much.
The story takes place at a prestigious high school, where the most elite of the elite attend. We are introduced to Emmaline (Emma) Chase, she is starting her Junior year, with much disdain. Her best friend Oliver will not be there since he committed suicide during the summer. Emma gives off the vibe that she just wants to keep her head down and get through her Junior year. There are some new students that will be joining the school, they have dubbed themselves "The Simliars". They are clones of six students that are already attending the school, including Levi, who happens to be the clone of Oliver. Emma is not thrilled to see Levi at the school, yet she can't seem to stop thinking about him, which turns into an unlikely friendship, then later into a romance.
There is some mystery to the story, along with an attack on Emma's best friend Pru. Emma wants to know more about the Similars and what they are about since she catches them sneaking out in the middle of the night.
I did have some issues with Emma, like when she finds out about why the Similars are meeting in the middle of the night, she seems to just go with it, rather than be leery of them. When she finds out what is really going on at the school, she doesn't alert anyone. The romance even felt wrong somehow.
The ending was more of a WTF that I didn't fully expect. There was a small hint at part of the ending that I guessed at. There was a bit of things that did happen at the end that confused me a bit, since it was hart to tell what was real and what wasn't, but the ending did have a cliffhanger This is what will get me to read the next book, I need to know how and why the first book ended the way it did.