Welcome to the Scavenger Hunt Tour for Reclaiming Shilo Snow by Mary Weber, in collaboration with Thomas Nelson & Zondervan Fiction and JustRead Publicity Tours!
She was far more capable than Earth's leaders had accounted for—and they had no idea what she'd do next.
Known as a brilliant mind that could hack humanity's darkest secrets, seventeen-year-old Sofi Snow is the most wanted teenager alive. She found her way to the icy, technologically brilliant planet of Delon to find Shilo, the brother everyone but Sofi believes is dead.
But as she and Ambassador Miguel partner to find her brother and warn those on Earth of Delon's dark designs on humanity, Sofi's memories threaten to overtake her, distorting everything she holds true. She knows the Delonese kept her in a dark, deceptive place . . . and destroyed a portion of her life. Now, the more they discover of Sofi's past, the more Sofi feels herself unraveling—as each new revelation has her questioning the very existence of reality.
In this harrowing sequel to The Evaporation of Sofi Snow, Sofi and Miguel must trust each other and discover the secrets locked inside Sofi's mind as the line between what's real and what they imagine begins to slip away . . . threatening to take humanity with it.
4.5/5 books
I received an e-arc of this book from the publisher in exchange for an honest review
I want to thank Mary Weber and Just Read Tours for letting me take part in this scavenger hunt!  Keep an eye open for the clue word in the review.
Reclaiming Shilo Snow picks up right where Sofi Snow left off. The chapters are once again told from multiple points of view, mainly Sofi, Miguel and Sofi's mother Inola.
The majority of the story is taking place with the Delon's and still trying to figure out what their angle is with Earth, and why they are so focused on Sofi and Shilo. This time there are a few flashbacks too before the Delons showed up and what life was like for Sofi and Shilo, we also get a better understanding as to why Inola did what she did both for her children and for the people of Earth.
There were a few parts in the book that did confuse me, but as it went on it made a lot more sense as to what was going on and why things happened the way that they did. Since the Delons are so focused and interested in Sofi and her hacker skills, which were very cool, and made me jealous of Sofi.
Without getting too involved with spoliers, I will say there were a few scenes in the book that made me think of The Matrix series. Outside of the "I know Kung-Fu" line, I don't know if the author meant to use similarities to the movie, but even if she didn't I found it easy to visualize what was going on.
The ending of this book hurt, the sacrifices that were made, the people that were betrayed, the truth finally coming to light, it was a great way to end the story. Even knowing that things will not fix themselves over night I liked how things were paced out to wrap up the every end of the book, and that prologue ending was not was I was expecting. Now saying that I do hope at some point there will be a novella or short story about the family at the end of the book.
This duology is such an amazing read, when I read The Evaporation of Sofi Snow I could not shut up about it for weeks, and I'm pretty much at that point now with Shilo. The two books are great fast reads, if you are into hi-tech hacker/gamer type stories with a dash of alien interaction. Grab both of them.
*******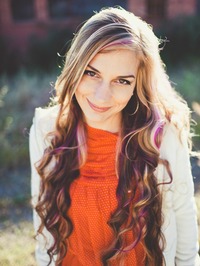 Mary Weber is the award-winning HarperCollins author of the bestselling young adult Storm Siren Trilogy, and The Evaporation of Sofi Snow series. An avid school and conference speaker, Mary's passion is helping others find their voice amid a world that often feels too loud. When she's not plotting adventures involving tough girls who frequently take over the world, Mary sings 80's hairband songs to her three muggle children, and ogles her husband who looks strikingly like Wolverine. They live in California which is perfect for stalking L.A. bands and the ocean. She gets nerdy at @maryweber.com, FACEBOOK @MaryWeberAuthor, INSTAGRAM @MaryWeberAuthor, and GOODREADS. 
SCAVENGER HUNT RULES
1. Be sure to stop at every stop to get the word/phrase as part of the hunt. You should find the phrase within the caption of their social media post or their blog post. Once you get the full phrase, enter it in the Rafflecopter entry form below. 
2. The tour landing page (this page) with the tour schedule and the Grand Prize entry form will be posted here and on JustRead Publicity Tour's Campaign page.  
3. Stops will be posted no later than
6 PM EST
on
February 20, 2018
. The Tour-Wide, Grand Prize Giveaway will be opened through 11:59 PM EST on
February 24, 2018
. Individual stops' giveaways will be at the discretion of the hosts. 
4. Have fun and be sure to check out this series! It's AWESOME! 
TOUR SCHEDULE

Facebook:
One U.S. winner will win: (1) Hardcover Copy of Evaporation of Sofi Snow, (1) Signed ARC of Reclaiming Shilo Snow, (1)With Music the World Evaporates Drawstring Backpack, (1) The Evaporation of Sofi Snow Earbuds. 
Thanks for joining the hunt!