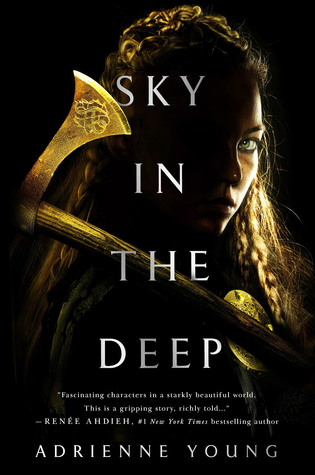 4/5 books
*I received an e-arc of this book from the publisher in exchange for an honest review*
Hardcover, 352 pages
Expected publication: April 24th 2018 by Wednesday Books
ISBN13: 9781250168450
Seventeen-year-old Eelyn's world is war. Raised to fight alongside her Aska clansmen in a generations-old blood feud against the Riki, her life is brutal but simple: fight and survive. Until the day she sees the impossible on the battlefield—her brother, fighting with the enemy—the brother she watched die five years ago.

Faced with her brother's betrayal, she must survive the winter in the mountains with the Riki if she wants to make it back to the fjord after the thaw. But when she begins to see herself in the people she's been taught to hate, the world Eelyn once knew begins to crumble. And after the village is raided by a ruthless clan many believe to be a myth, Eelyn is given no choice but to trust Fiske, her brother's friend who has tried more than once to kill her. Together, they must end the blood feud between their clans or watch their people be slaughtered.

A lush, Viking-age inspired fantasy about loyalty, forgiveness, and the definition of family.
*******
I didn't know what to think when I first got this book, since at the time I was seeing a lot of hype for this one, but it was very cryptic since no one was really dropping hints as to why it was so amazing and awesome, when I was able to sit down and start reading it, I saw where the hype was coming from.
Sky in the Deep starts with an action filled first chapter, a bloody action scene ending with a shocker, Eelyn believes she sees her dead brother alongside the enemy clan. Despite telling her father and her friend what she saw, she is dismissed and told that it was their God blessing her. Despite being brushed of Eelyn knows what she saw and is determined to confirm it for herself. She sees her brother again and this time trails him despite being told to ignore him and act like she never saw him. She is caught and taken prisoner by the Riki.
Eelyn is a strong but stubborn character. She is determined to find out how and why her brother betrayed her, the Aska, why he didn't return. He tries to explain to her what happened but she doesn't want to believe it, she can't believe what she is hearing since all her life she's been raised to know that the Riki are the enemy, they are heartless and brutal and that they would never show pity on their enemy.
The majority of the story takes place in the Riki village and Eelyn fighting the people around her along with a couple of failed escape attempts which in turn makes things harder for her. While being with the Riki clan her pride and her honor start to wear down and she starts seeing similarities between the two clans, that they aren't to different from each other, even their calm ritual to honor the dead are very alike despite different gods and the other side of the history between the clans.
A common enemy between the clans arrives and Eelyn knows that the Riki are not strong enough to fight them alone and she proposes that the Riki and the Aska fight alongside each other and put their differences aside to save both clans. Eelyn offers to be the spokesperson to convene the Aska to work alongside the Riki. Tensions arise once again with Eelyn returns to her clan and for once Eelyn sees how her own views have changed since being with the Riki.
There is a romance between Eelyn and a member of the Riki clan, but it is a super slow burn, you don't see any sparks till near the end of the book.
Adrienne confirmed that there will be a companion novel due out in 2019, I'm hoping it will be from Fiskes POV.
*******
About the Author:
Adrienne Young is a born and bred Texan turned California girl. She is a foodie with a deep love of history and travel and a shameless addiction to coffee. When she's not writing, you can find her on her yoga mat, scouring antique fairs for old books, sipping wine over long dinners, or disappearing into her favorite art museums. She lives with her documentary filmmaker husband and their four little wildlings beneath the West Coast sun.
Author Social Media:
  Facebook   Goodreads  Instagram  Pinterest  Twitter  Website
*******
Rafflecopter Giveaway:
THE PRIZE:
1 Finished Copy of Adrienne Young's Sky In The Deep (US only)
http://www.rafflecopter.com/rafl/display/c3165933123/?
*******
Tour Schedule:
4/1 Tour Stops
Review – Here's To Happy Endings
Review  – Flyleaf Chronicles
Interview – Emily Reads Everything
Guest Post – A Backwards Story
4/8  Tour Stops
Interview –OMG Books and More Books
Review – Life of a LIterary Nerd
Review – Boundless Bookaholic
Review – Avid Reader Diary
4/15  Tour Stops
Review – Hopeful Reads
Excerpt- The Hermit Librarian
Review  –Dani Reviews Things
Review – Aimee, Always
4/22 Tour Stops
Review – Library of a Book Witch
Review – Pretty Deadly Review
Interview – Bookstacks Amber
Review – A Gingerly Review
4/29 Tour Stops
Guest Post – Sarcasm and Lemons
Review – A Thousand Words and A Millions Books
Interview – Tween 2 Teen Books
Review – A Book and A Cup of Coffee